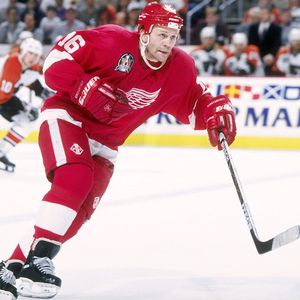 George Will once said that "sports serve society by providing vivid examples of excellence." I think it is important to make sure that examples of true excellence do not get forgotten with the passage of time.
Vladimir Konstantinov was the best pure defenseman I have ever seen play the game of hockey. Locking down opponents with his defensive skills and striking fear in their hearts with his bone-rattling checks, he neutralized their arsenal by effectively taking half the ice away from them. He played with a competitive fire that manifested itself in a mean streak, and he looked menacing with his granite face and flat nose.
When he was on the ice many players avoided his vicinity or played tentatively, so that his mere presence worked against them. As he once said: "For my game, I don't need to score the goal. I need someone to start thinking about me and forgetting about scoring goals."
Konstantinov was a living, breathing repudiation of the stereotype that European hockey players are long on skating talent but short on toughness. He thrived on the NHL's rugged style rather than struggle because of it, and his lack of shyness when things got physical was evident from early on. During the World Junior Championships, when Konstantinov was playing for the Soviet Union, a fight broke out between his team and the Canadian team, and as Neil Smith (an NHL scout who was there) recalls, "he was the only one of the Russians who fought back."
When he first reached adulthood, players were not able to leave the USSR to play in the NHL, but before long that changed. Konstantinov signed with the Detroit Red Wings and joined them for the 1991-92 season, playing in 79 regular season and 11 playoff games that year. With him and fellow Russian Slava Fetisov anchoring the blue line, the Red Wings became a perennial Stanley Cup contender in the middle of the 1990's.
Detroit reached the finals in 1995 but lost to New Jersey. In 1997 they finally won the Cup for the first time in 43 years, sweeping the Philadelphia Flyers to do so. Six days later, tragedy struck when Konstantinov, Fetisov, and team masseur Sergei Mnatsakanov attended a party. They did the responsible thing by hiring a limousine service to drive them home, but the driver fell asleep at the wheel and lost control of the vehicle on Woodward Avenue. It crashed into a tree and Konstantinov was taken to the hospital in a coma. His brain swelled and at one point he was not expected to survive.
When he came to, he was not the same man. Extensive brain injuries left him with diminished cognitive and decision-making skills. They also impaired his ability to communicate, move, and balance.
And he became, at least to an extent, disconnected from emotions. I remember reading an article a while back in which the reporter said that Konstantinov would look at pictures of himself holding the Stanley Cup and be fully cognizant of what the Cup was and the fact he had won it...yet would have no feelings about it.
It has been 14 years since the car crash and his life continues to be one of big struggles to achieve small victories. At one point it was thought he would never walk again, but now he is able to keep up a "modest pace" on a treadmill. His attention span is short, but he is good at math. He requires round-the-clock care and is attended by nurses who cook his meals in addition to monitor him. Fortunately, his wife Irina is supportive.
At the time of the accident Konstantinov was 30 years old and in the prime of his career. He was one year removed from having finished the 1995-96 season at +60 -- a remarkable feat when you consider that in the past quarter-century, the only other player to finish a season with such a high plus/minus is Wayne Gretzky.
And while Konstantinov's defensive prowess was so formidable that many people assumed he contributed little on offense, the facts show otherwise. He totaled 193 points in 528 NHL games.
Today, few people talk about this man who epitomized stellar defensive play, and those who do mention him usually focus on the car crash instead of the playing career. That is a shame. In his prime, Konstantinov was a feared man who inspired such nicknames as "The Vladinator" and "Vlad the Impaler." He was the kind of player you loved to have playing for you and hated to be playing against. While his battles to overcome disability are inspiring, we should never forget the athletic excellence without which he would never have been in the public eye.
When a young person who wants to play great defense asks whose play he should learn from, it would be wise to tell him to watch old videos of Vladimir Konstantinov.