Driving into Pennsylvania from West Virginia, traveling north through the Alleghenies on US 19, you are treated to a landscape of forested mountains and scenic valleys. The further you get from the state line, farms gradually become less prevalent and dottings of homes more prevalent, but Nature continues to dominate. Even when buildings become ubiquitous enough to signal you're in a suburb, it doesn't really feel like it because the slopes are still wooded and trees still reign.

After an hour or so, US19 and Interstate 376 hook up as one road. Before long the road leads you into the 56-year-old Fort Pitt Tunnel, which bores through Mount Washington for almost seven-tenths of a mile... and when you emerge from the darkness on the other side, this is the view you immediately see:
It is the most startling introduction to a city anywhere in these United States and perhaps the world. While the steep north slope of Mount Washington rises directly behind you, the modern skyline of downtown Pittsburgh stands, wholly unexpected, directly in front of you; and the Monongahela River flows roughly six stories below, for you are now driving across the upper deck of the world's first computer-designed bowstring arch bridge. It's striking, the difference between what lies north of the mount versus south of it.
Moments later you exit onto the streets of downtown and head east for a few blocks on Boulevard of the Allies, paralleling the Monongahela, before turning north and making your way to Fifth Avenue. That is where you find Consol Energy Center, home to the hockey team that on Sunday proved itself the best on Earth.
If you stand there, you will not only be standing next to the home of the Pittsburgh Penguins -- you will be standing in the heart of our nation's true hockey capital.
* * * * *
I know many people call Detroit "Hockeytown," but that's only because they are susceptible to advertising gimmicks. I'm not saying there are no good hockey fans in Detroit, but I am saying -- because it's true -- that it was a 1996 marketing campaign that first referred to Detroit by that name.
Because the Red Wings won the Stanley Cup in 1997, the name stuck even after Detroiters
failed to sell out playoff games during their 2008 championship run
...
but if you want to know which American burg has the longest standing legit claim to the title of "Hockeytown," look not to Eastern Michigan but to Western PA, and let your eyes fall upon the 'Burgh.
Although there is no question that Canada is both the cradle and Everest of hockey, it was south of the border, here in Pittsburgh, that the game was first played indoors on man-made ice on a regular basis. That was way back in the 1890's and the venue was the opulent
Schenley Park Casino,
not far from the University of Pittsburgh.
And it was here (in 1896) that the world's first professional hockey league, the
Western Pennsylvania Hockey League (WPHL),
was both founded and based. Back then, in Canada it was illegal to pay people to play sports, and therefore many of the best Canadian players started moving here to play in the WPHL. That forced Canada to change its laws, which in turn led to the creation of the National Hockey League, so it can be said that without Pittsburgh there would be no NHL.
Despite the
fraudulent concept
of the Original Six, whose members include Detroit but not the 'Burgh, history shows that Pittsburgh had an NHL team prior to Detroit. It also shows that Pittsburgh had an NHL team prior to another of the Original Six, namely Chicago.
This means that of the so-called "original" six cities, one-third fail to pre-date the 'Burgh when it comes to NHL hockey being played there. And if you look at things from a franchise-specific perspective, it turns out that fully half of the so-called "original" six franchises (namely the Red Wings, Blackhawks, and NY Rangers) fail to pre-date the 'Burgh's original team in the league.
* * * * *
The first NHL franchise in Pittsburgh was called the Pirates, and it was the city's first professional sports team to wear the yellow and black colors that have become synonymous with the city. Pittsburgh's current pro teams -- the Penguins, Steelers, and baseball Pirates -- all wear yellow and black.
Obviously, the hockey Pirates did not survive to the present, but that was not due to a lack of hockey enthusiasm among the citizens. The primary causes of the Pirates' going under were the financial losses suffered by their owners in the 1929 stock market crash, and the Great Depression economy that followed (and it's hard not to suspect that the losses were exacerbated by the fact that the owners were a bootlegger and a fight promoter).
The Pirates had a lasting impact on the game despite playing for less than a decade. Under the tutelage of player-coach Odie Cleghorn, they were the first team to change players on the fly, and the first to use set lines rather than just leaving their best players on the ice until they couldn't go any longer. Four Pirates are in the Hall of Fame.
Unfortunately, after World War II got going the NHL went ages without expanding, and even if it had expanded sooner than it did, Pittsburgh might have been left out because it lacked an up-to-date arena as the post-war years began to unfold.
Nonetheless, the minor league Pittsburgh Hornets kept hockey very much alive in the city, playing most of their history in aging Duchesne Gardens and sometimes allowing kids to skate on the ice after games: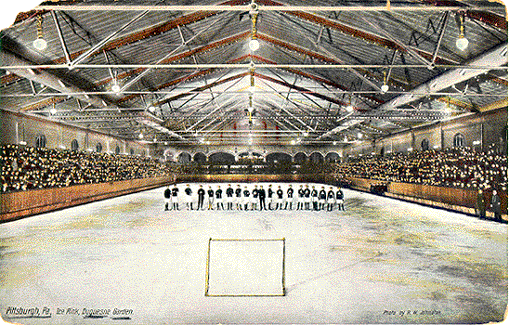 In 1961 the "arena issue" was solved by the opening of the 17,000-seat, retractable-roofed Civic Arena, whose appearance combined with its eventual use for hockey caused it to be known as the Igloo:
When the NHL finally expanded in 1967, the Penguins came into being.
As everyone knows, Mario Lemieux suited up for them starting in the mid-1980's and was arguably the best player of all time, with apologies to Gretzky and Howe.
Later he was joined by Jaromir Jagr, who also has a claim to that "arguably the best ever" title (with apologies to Gretzky, Howe,
and
Lemieux).
Powered by Lemieux and Jagr, the Penguins won back-to-back Stanley Cups in 1991 and 1992.
After losing the 2008 Stanley Cup Finals to Detroit in seven games, they again faced Detroit for the Cup in 2009, and that time
won
in seven games to secure the franchise's third world championship.
Which brings us to this year's version of championship Pens...
* * * * *
The Penguins have remained talented ever since they won it all in '09. However, many people have been less than impressed with their post-season results because they experienced three first round eliminations and no return to the SCF during the six seasons from 2010 through 2015.
Of course that's not fair, especially when you consider the roster turnover, coaching changes, and amount of time Sidney Crosby missed with concussion issues. Those who talked about the Pens as post-season flops seemed not to notice that they made it to the Eastern Conference Finals in 2013 and to the second round in 2010 and 2014.
But for the first two months of this season, it looked like the naysayers might be right to say the Pens weren't good enough to win it all. They appeared wayward, Crosby was struggling, and in mid-December their place in the rankings was low enough that they would have missed the playoffs had the season ended at that time.
That is when ownership pulled the trigger by firing head coach Mike Johnston and replacing him with Mike Sullivan from their Wilkes-Barre/Scranton affiliate -- and did that move ever pay off, as the team caught fire and Crosby got his groove back.
Down the home stretch, the Pens were the hottest club in the league and looked like the kind of machine nobody would want to face in the playoffs. They didn't miss a beat even when Evgeni Malkin and Marc-Andre Fleury went down with late-season injuries that caused them to spend 1.5 and 2 months out of the lineup, respectively.
Then came a post-season run that can truly be called spectacular... First they blew the Rangers out of the water, averaging 4.2 goals per game and chasing Henrik Lundqvist from the net three times... Next they eliminated the Washington Capitals, who had the best record in the league and were favored to win it all... Then they overcame a 3-2 series deficit to win the Eastern Conference Finals over the Lightning in seven games (damn it)... And finally, they controlled San Jose for most of the Stanley Cup Finals before closing it out Sunday night in Game Six.
They officially became the champs at 10:47 Pennsylvania time, 7:47 California time. This edition of the Penguins is the fourth in franchise history to win the Cup, and may very well be the best of the four. But they have so many key parts to mention, where do you even start?
* * * * *
Sid the Kid
: It might seem strange to still be calling Sidney Crosby "the kid" after 11 seasons in the NHL, but don't forget that he's played all those years and is still only 28... A month and a half into this particular campaign, he was a miserable 157th in the league in points; but after he got rolling, he became unstoppable and roared up the rankings to finish third with 85 points (36, 49) in 80 games played... Crosby's post-season was filled with faceoffs won at key times; perfect field generaling; more between-the-legs passes than anyone could count; and a tally of 19 points on 6 goals and 13 assists in 24 playoff games. His OT goal in Game Two of the ECF prevented the Penguins from falling into a 2-0 series deficit against the Lightning (damn it) that might have been too steep for them to overcome. This centerman from Nova Scotia absolutely earned the Conn Smythe he received on Sunday.
Malkin
: You wouldn't know it if all you did was listen to what media people say, but Evgeni Malkin registered just one fewer playoff point than Crosby (6, 12, 18) despite missing the last month and a half of the regular season and therefore having to cope with rust. He was all over the ice in the last two rounds, and his game-winner in Game Four of the SCF gave his team that 3-1 series lead which almost guaranteed they would win the whole thing.
HBK
: Even more so than established stars Crosby and Malkin, it was the so-called HBK Line that made Pittsburgh's motor run from playoff start to playoff finish. Comprised of Nick Bonino (the B) centering Carl Hagelin and Phil Kessel (the H and K), this trio rang up an astonishing 56 points on the stat sheet and proved to be the league's most prolific post-season line... and to top it off, none of them played for the Pens the year before, with Kessel and Bonino being acquired during the offseason and Hagelin being brought in via trade in January... and to illustrate just how insanely deep the Penguins are at forward, this unit is their
third
line.
Team D
: Trevor Daley is the Penguins' best defenseman, and entering Game Four of the ECF they were already short-staffed defensively and Daley had logged the second-most playoff ice time of anyone on the roster. So when he suffered a broken ankle in that contest that would sideline him indefinitely, it was the kind of loss that would cripple most teams -- but not this one... The Penguins responded by playing committed, disciplined, team-wide defense until such time as they would hoist the Cup. They blocked shots, took away passing lanes, and cleared the puck from their zone so that their opponent, be it Tampa Bay or San Jose, had to struggle just to set up on offense.
The Rookies
: Much has been said about Matt Murray, and for good reason. Called up from the minors in December, he made his first NHL appearance six days before Christmas and played in only 13 games before the playoffs started; but with Marc-Andre Fleury not medically cleared to return from his concussions, Murray eagerly assumed the starting goaltender role for the playoffs and played so well that he received serious Conn Smythe consideration... However, another rookie deserves almost as many accolades: RW Bryan Rust, the former Notre Dame star who plays on the Penguins' bottom line but seemed to have top-six impact every time he was on the ice. Playing with a perfect blend of grit and grace, Rust scored both Pittsburgh goals in their Game Seven win in the ECF (damn it) and his six total goals in the post-season were just as many as Crosby and Malkin.
And there are plenty of other key pieces that could be talked about, but I am going to focus on one...
* * * * *
Kessel: As much as Crosby deserved the Conn Smythe, Phil Kessel deserved it more. His 22 playoff points (10, 12) led the team. He played fast, shrewd, and clutch, seeming to electrify the ice every time he stepped on it.
One wouldn't think that a player with Phil Kessel's resume would need to prove his worth. Drafted fifth overall by Boston, he scored 36 goals during a dazzling 2008-09 season when he was just 21. After being traded to Toronto, he spent six years in the self-proclaimed hockey capital of the world and was always the best forward on the team, scoring 30+ in four of those six years... And if you're talking about post-season productivity, just consider that Kessel's
career rate of 0.5 goals per playoff game ranks third-best of all active players over the last 16 years
. Also, coming into this year
he ranked second in primary playoff points since 2007 among all players who logged at least 200 minutes of playoff ice time across that span.
But unfortunately for this 28-year-old Wisconsinite, playing in Toronto isn't good for your reputation if you happen to have been born in the United States. A venomous strain of anti-American bigotry flows through the veins of many members of the Toronto media, and a softer but still palpable strain of that prejudice flows through the veins of some Toronto fans.
Never mind that Kessel was the Leafs' best player and often their only good forward: When the Queen City's partisans needed to blame someone for their team's inability to be a contender, their arrows inevitably got aimed at the team's highest profile American.
Unable to find anything in his playing style or productivity to criticize, they decided to claim that he eats too many hot dogs and thereby keeps himself from being the best he can be, which thereby undermines not just his own character but that of his teammates. Thus, many Leafs fans said their team would be better off without him. Seriously.
To be fair, I too am guilty of poking fun at Kessel's, shall we say, uncoventional body shape (if that was really me who referred to him as "a rotund, cholesterol-soaked dead ringer for John Kruk"). But hey, whoever (ahem) wrote that was just joshing and engaging in jocular hyperbole.
I am glad to see Kessel stick his finger in the eye of his detractors and do so without saying anything negative about them.
* * * * *
In closing, I am disappointed that the Tampa Bay Lightning fell short of grasping the holiest grail in sports this month. But I take comfort in knowing that the only team that could stop them is truly the best one on the planet.
If the Bolts had to lose, there is no other team or organization I would rather lose to, and no other city I would rather see staging a championship parade. The Igloo has been replaced by Consol Energy Center, and Mario Lemieux has been replaced by Sidney Crosby on the ice; but Lemieux is not only still around the team, he now
owns
the team, and Crosby has proven himself a worthy heir to Lemieux's crown.
The Penguins are still the Penguins, Pittsburgh is still a hotbed for hockey passion, and the Cup being there is good for the game.