Actually it was twenty years ago
this spring
, not today, but I can't let such a minor detail stop me from Sergeant Peppering my headline.
I am talking about the first time the Tampa Bay Lightning made it to the NHL playoffs, and since the race to qualify for this year's playoffs is tight -- with the Bolts defending their Eastern Conference crown, aiming to return to the Stanley Cup Finals for the third time in twelve years and win the Cup for the second time in that span -- I feel driven to welcome the approach of the 2016 playoffs by paying tribute to the scrappy group of guys that generated a major buzz back in 1996.
Some people will claim that in order to understand how special that Lightning team was, you need to be from here. Some might say you need to be from here
and
be of a certain age. Although I don't believe either claim is necessarily true, I do believe some context is needed, so here it comes.
* * * * *
When dawn broke on the 1995-96 NHL season, Tampa Bay had for years been one of the biggest laughingstocks among North American sports markets. We were considered losers, and while that label wasn't accurate, it was understandable because the National Football League's Buccaneers were in the middle of their thirteenth straight losing season -- and as if that wasn't bad enough, the twelve immediately preceding years had not been "merely" losing seasons, but double-digit losing seasons.
The Bucs' original owner, Hugh Culverhouse, was a miserly tax cheat tax attorney who never even tried to put a winning product on the field -- and didn't think twice about running Doug Williams out of town in a probably-racist move that arguably ruined Williams's career (although Williams would famously quarterback the Redskins to a Super Bowl victory, that did not occur until after his squabbles with Culverhouse forced him to spend his prime years exiled in the football wilderness by playing in the USFL and then riding the bench in Washington; he only started two games during the Super Bowl season, but received the unexpected nod to start in the playoffs basically because Joe Gibbs, the legendary Redskins coach, had a hunch.)

While our football team had spent most of its existence flopping around like a dying fish on a dock, our efforts to land a Major League Baseball franchise also bore a striking resemblance to a dying fish flopping on a dock. The city of St. Petersburg openly dreamed of attracting MLB starting in the 1970's, and in the 1980's it rolled the dice by building a pricey, lopside-domed stadium on the site of an abandoned gas plant, never mind that MLB had not announced any plans to expand.
After the dome was built, its existence was nakedly exploited by MLB organizations who used it as a means of bribery to get concessions from their own cities. The owners of those teams (in particular the Chicago White Sox and San Francisco Giants) feigned interest in either moving here or selling to new owners who would move them here, and the gambit worked. Tampa Bay was repeatedly spurned at the altar and made to look a fool.
Thankfully, the Lightning arrived on the scene as an NHL expansion team, playing its inaugural game in October 1992 and showing the way to success. The Lightning, affectionately known as the Bolts, demonstrated that success can be attained simply through good old-fashioned grit and determination, regardless of situation. They put the taste of winning back into the mouths of Tampa Bay's put-upon fans, who had not experienced it in years, and from the get-go there was something special between the Bolts and their fans.
* * * * *
That special something between team and fans had a lot to do with their mutual underdog status.
As soon as this metropolitan area was awarded an NHL franchise, legions of people in the Northeast, Upper Midwest, and Canada rolled their eyes and thumbed their noses at the idea of a hockey team playing this far south.
Edmonton Sun
columnist Robert Tychkowski once wrote that those of us from the Bay Area couldn't comprehend hockey because we "wouldn't know snow unless it was shipped in from Colombia." Rosie DiManno of the
Toronto Star
declared that we were too dimwitted to understand the sport and required "
Hockey for Dummies
edification." The more we proved them wrong, the more unhinged their condescension became.
And, pardon my Francais, but to Hell with them.
The Bolts played their inaugural season on the Florida State Fairgrounds in a building called Expo Hall, which, as you might have guessed, is basically a big auction barn (seating capacity: 10,245). But in their first game, they took on the Chicago Blackhawks, the defending Campbell Conference champs, and crushed them 7-3 with journeyman Chris Kontos scoring
four goals
.
(Comparatively speaking, the NFL's Bucs did not win their first game until the next-to-last game of their
second season
.)
The team competed well throughout that season and went on to improve in each of the next three.
Though Tampa Bay's roster lacked star power in those early years, its lunch pail determination more than made up for it. Every time you went to a game, you had a legitimate feeling that the team could win. The phrase "Kick Ice" showed up on bumper stickers and window decals all over town, and that kind of moxie quickened the pulse and gave Bay Area sports fans a swagger they hadn't had since
1979
.
* * * * *
When the 1995-96 season began, the Lightning had no player who was considered a premier goal-scorer.
But they did have a fast, undersized centerman named Brian Bradley, who had a heart that exceeded his heft and also had a knack for sniffing out open ice and getting the puck in the net.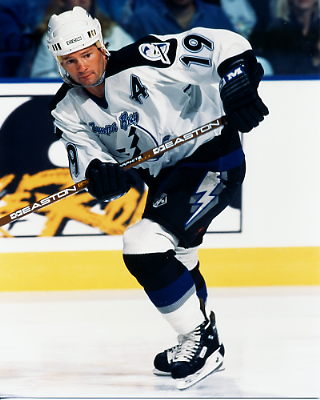 They had a tenacious winger named Rob Zamuner, who happened to be one of the best defensive-minded forwards in the game.
They had a fear-inducing enforcer named Rudy Poeschek.
And another one named Enrico Ciccone, who will always hold a special place in the hearts of fans even though he only played one full season with the team -- and even though he was traded away late in the 1995-96 campaign and therefore didn't get to suit up for the Bolts in the playoffs.

Plus, they had a young, entering-his-prime defenseman named Roman Hamrlik, who was born in Czechoslovakia and had become their first-ever draft pick back in '92.
They had a pair of smart, diligent, over-30 veterans that signed with them during the off-season: John Cullen, a former All-Star coming off of a productive year in Pittsburgh; and Brian Bellows, who had just finished a three-year stint with Montreal after spending nine seasons as one of the Minnesota North Stars' fan favorites
The Lightning also had "the kids" -- 20-year-old Chris Gratton and 19-year-old Jason Wiemer -- playing center and showing glimpses of big potential. That pair was being hailed as the foundation of a bright future.
But most importantly, the Lightning had a man named Daren Puppa (pronounced poo-pah). A brick wall of a goaltender from Kirkland Lake, Ontario, Puppa was able to win games all by himself even if the the Bolts were outplayed everywhere else on the ice. Whenever he made a fantastic save, the fans yelled "Puuuuuuuuuuuu-ppa!" Hanging from a club-level section of seating behind the west goal line was a sign declaring that section "The Pupp Deck."
Like I already said, the Bolts played their inaugural 1992-93 season in Expo Hall. However, in their second season they moved to the Thunderdome -- that aforementioned, lopside-domed stadium whose reason for being was to attract Major League Baseball (and which is now known as Tropicana Field, home of MLB's Tampa Bay Rays).
1995-96 was the Bolts' third and final season playing inside the Thunderdome's cavernous confines before moving to their
permanent, long-awaited arena
in downtown Tampa. And like I have also already said, 1995-96 was the first time they made the playoffs.
* * * * *
That was back in the days when newspapers were almost always read on paper, rarely online. As the regular season's end drew near, the
St. Petersburg Times
ran a daily cartoon showing a player in a Lightning jersey, holding his thumb up or down depending on whether the Lightning would qualify for the playoffs if the season were to end that day.
Larry Hirsch called Lightning games on the radio and endeared himself to fans with his adrenaline-fueled enthusiasm. The phrase he yelled every time the Bolts scored -- "Yessir! Yessir!" -- became part of the team's identity and could be heard on ESPN commercials which hyped the NHL as a whole.
At the end of pre-game warm-ups, Alexander Selivanov, a young winger from Moscow, had a routine: He would scoop up a loose puck from the end of the ice where he had been shooting, then pivot around and skate to the other end at full speed and snap the puck into the opposite net. He did it before every home game and the crowd roared each and every time. A little more than a year after the season ended, he married Carrie Esposito, daughter of team founder and Hockey Hall of Famer Phil Esposito, and they went on to have two sons.
Like all hockey seasons -- in fact, all hockey
games --
1995-96 was marked by heart-racing swings of momentum. The Bolts controlled those swings rather than let the swings control them, and they placed themselves in position to qualify for the playoffs as the season entered its final weekend.
Looking back, there were (in my mind) two key points. One was a twelve-game stretch with only one loss between February 15th and March 10th. The other was a 2-1 victory over the hated Florida Panthers on April 10th -- a victory secured when Hamrlik, cracking his stick in the process, blasted a slap shot through the five hole of
en fuego
goaltender John Vanbiesbrouck.
I was driving southward, on Fourth Street near its intersection with Gandy Boulevard in the city of St. Petersburg, when the news broke over the radio that the Lightning had made the playoffs because the Ottawa Senators had just defeated the New Jersey Devils. No longer did the Lightning have to get either a tie or win the following day -- they were
in
no matter what, baby!
* * * * *
The Lightning's opponent in the first round was the top-seeded Philadelphia Flyers, who, thanks to their insufferable boo-bird fans, were reviled by pretty much every North American sports fan not from eastern Pennsylvania or southern Jersey.
The Flyers' #1 seed was more than warranted. Defying logic, their players were both blindingly fast and hulkingly large and their top offensive line -- the so-called "Legion of Doom" comprised of Eric Lindros, John LeClair, and Mikael Renberg -- was arguably the best to lace up skates for any team in the 1990's.
In Game One, Philadelphia's physical superiority seemed even more pronounced than it actually was as they jumped on the Bolts from the beginning and seemed to get every shot to cross the goal line. The Flyers won 7-3 and looked invincible.
But looks do not always equal reality, and the Lightning rose to the occasion in Game Two. Puppa stood strong in net and turned away one assassin shot after another. Selivanov pounced on a third period rebound and snapped it past Philly netminder Ron Hextall to tie the game 1-1. Then, midway through the first overtime, Gratton started a breakaway that ended with Brian Bellows
rifling
a shot past Hextall to give the Bolts their first-ever post-season victory.
Next came Game Three, when the series shifted to the Thunderdome and the Bolts got to play their first post-season game on home ice. It took place on April 21, 1996, a Sunday afternoon, and the building was crammed to the rafters with what was then the largest crowd ever to attend an NHL playoff game (today it ranks as the second-largest).
In what would later prove to be an ominous sign, Puppa suffered back spasms (a recurring problem throughout his career) that rendered him unable to play, so backup goalie Jeff Reese replaced him in net. Everyone who was a Lightning fan at the time remembers how well Reese played, keeping Philadelphia's snipers enough at bay that his team had a chance to win.
With the Flyers leading 3-1 in the second period and on a power play, Rob Zamuner notched a steal-and-score short-handed goal (which you can see
here
at the 2:55 mark) to pull the Bolts within 3-2. Later that period, he tied it up with a goal you can see at the 3:30 mark of the same link.
Philadelphia did manage to regain the lead, but not for good. Late in the third period, Bellows tied the game by honing in on a bouncing puck and chopping it into the net. Because of that goal (which is viewable just after the prior link's 4:50 mark) the game went to overtime tied at four.
Then, a mere 2:03 into the extra stanza, Selivanov etched himself an eternal place in Lightning history by anchoring himself just outside the crease, allowing a blocked Brian Bradley shot to land in front, and jamming the puck past Hextall to win the game 5-4. You can see it just after the link's 5:55 mark. The crowd's cheer -- which is not done justice by the audio -- sounded like it would blow the roof off the dome.
The Lightning were in the catbird seat against the favorites, and spirits soared throughout the region.
* * * * *
In the end, however, fate was not on the Lightning's side.
They played hard against the Flyers for the remainder of the series but struggled to get anything to go behind Hextall -- a bad sign when your own starting goalie, who is also your best player, has been replaced by a backup in your own net. Philly won Game Four here and Game Five there, by identical scores of 4-1, to take a 3-2 series lead.
When things shifted back here for Game Six, a still-hurting Daren Puppa returned to the net in a high character effort to overcome his ailment and rally his team; but unfortunately, it was not in the stars for him to become Tampa Bay's Willis Reed.
As I watched from high above the ice, in the general admission area of the Thunderdome's third deck, the Flyers simply outmanned the Bolts that night and ended the series at 4-2. My brother sat to my right. To my left were a bunch of twentysomethings from Timmins, Ontario, who were on hand to experience their dream of seeing an NHL playoff game in person -- a dream made possible because one of their friends had relocated here and was able to secure tickets. Such was the nature of things back then, in this new-to-the-NHL area where we loved hockey and sought to expand its roots without upheaving them.
There was a sense of disappointment because the Lightning had shown they were good enough to beat those Philly bastards -- only to lose control and drop the series by getting outscored across the last three games.
Nevertheless, the
final
feeling of that series was one of excitement and optimism. We Lightning fans had always known our team was for real and always known we were a formidable fan base. Now, after the way our team had spooked the Flyers and their obnoxious fandom, nobody could question Tampa Bay's legitimacy.
* * * * *
Sadly, the team's immediate future proved not to be as bright as it appeared during those heady days.
By bringing in future Hall of Famer Dino Ciccarelli, the franchise demonstrated its commitment to improving and to making an impact on the league. But Puppa was still ailing when the next season opened, and wound up missing 76 of its 82 games, and as it turned out, he never did fully recover. Despite being one of the world's most talented netminders and despite being in his prime when those back spasms sent him to the sidelines during the '96 playoffs, Puppa never made it through another complete season. Though he remained on the roster for four more years, he missed more than 84 percent of the games across that span before deciding to retire.
A year after reaching that '96 post-season, the Bolts were in the thick of the chase to qualify for the 1997 playoffs and John Cullen was their leading points-scorer. But Cullen started battling flu-like symptoms that he couldn't shake, and being a competitor, he hid them from the trainers. His wife, Valerie, decided to go over his head by telling the team about it -- a decision which led to x-rays, which, in turn, revealed that he had a grapefruit-sized tumor in his chest. The tumor proved to be cancerous and he was diagnosed with lymphoma.
Cullen began chemotherapy that was debilitating, and, obviously, missed the remainder of the season. While undergoing treatment, he underwent cardiac arrest and his heart stopped and he briefly died on a hospital gurney. Blessedly, he was revived and ultimately defeated the disease.
After missing the entire 1997-98 season, he returned for the 1998-99 campaign and received a standing ovation when he stepped back on the ice for the first time. However, he chose to retire in November after it became obvious he could not regain his prior form.
Then there is the case of Alexander Selivanov, who, like I mentioned earlier, scored the winner in that epic Game Three and went on to marry Carrie Esposito. On the one hand, it can be said that their case shows nepotism has no place in the NHL's meritocracy, since Alexander's status as the founder's son-in-law did not prevent him from being traded to Edmonton in 1999, after his production declined. On the other hand, their case shows that "none of that shit matters" when you think about the denouement that was to come.
Four Januarys ago, Alexander had been out of the NHL for more than a decade but was still receiving a paycheck to play the game. Specifically, he was playing for a team in the Netherlands while Carrie and their sons were living in Germany. A couple weeks before the end of January 2012, she coughed up blood but did not seek medical attention, and then, on January 30th, she collapsed in their home and died of an abdominal aneurysm.
In the bat of an eye, Alexander Selivanov became a widower at the age of 40, and Nikko and Rocco Selivanov were rendered motherless at the ages of 13 and 9. Carrie's oldest son (Dylan, from a previous marriage) was 19 when her sudden death left him without his mom.
Roman Hamrlik went on to have a remarkably long, 20-season career in the league. But despite his status as history's first Bolt, more than 14 of those seasons were played elsewhere because he was traded to the Oilers midway through the 1997-98 campaign. And as far as production in the offensive zone is concerned, he never came close to matching the 65 points he tallied during that magical 1995-96 operation.
Although Chris Gratton and Jason Wiemer would have decent NHL careers, they fell far short of the stardom so many were predicting for them. In hindsight, those predictions were not warranted from the outset and did nothing but saddle young players with unrealistic expectations.
So, while 1995-96 was a helluva ride by a core group of guys who were easy to like, it turned out to be the highest hill that group would ever climb.
* * * * *
For the fictional slave Pseudolus, a funny thing happened on the way to the forum.
For that first Lightning squad to reach the post-season, Life happened on the way to the world which lay beyond 1996.
Life, with all its vagaries and randomness, knocked that team off its tracks; but in many ways, that fact makes the team's story more inspirational, not less.
John Cullen remains cancer-free. Now 51, he manages his brother's car dealership in Jonesboro, Georgia. This continues a family tradition, since Cullen's father and uncles were car dealers in Canada when he was growing up. He and Valerie are still married and have three daughters: Kennedy, Karlyn, and Kortland (the latter two are twins).
Alexander Selivanov splits his time between here and Russia and Phil Esposito gets to see his grandkids. But Russia consumes most of Selivanov's time because he is one of the coaches of Admiral Vladivostok -- a Kontinental Hockey Legue team based so far in Russia's eastern realms that its arena is near the Korean Peninsula.
Daren Puppa continues to reside in the Tampa Bay Area even though his playing days are years behind him. So too does Brian Bradley.
After finishing his playing career, Jeff Reese served for years as the Lightning's goaltending coach. In that capacity, he got his name engraved on the Stanley Cup when the Bolts won it all in 2004.
Mikael Andersson, the fastest player from that first playoff squad, now works for the Lightning as a scout.
Petr Klima, who was arguably that team's most skilled skater and shooter, now owns several developmental teams for youths in Michigan.
Head Coach Terry Crisp has long since left the coaching world behind. Today he is 72 and works as a TV and radio broadcaster for the Nashville Predators, but he's happy to talk about the years he once spent turning the Tampa Bay Lightning into a winner literally from scratch.
Yes, in the two decades that have passed since that first playoff appearance, the Bolts have fielded teams that achieved much more on the ice. But where Lightning lore is concerned, no squad is more special than that overachieving gang that briefly touched the sun in the spring of 1996.